We have created some lovely pampering or you can customise your own dog's experience from our
Pick and Mix
treatments. All our spa packages have a fixed price, regardless of your dog's breed or size. Please
contact us
to book or discuss your dog's needs and check out our fab photos in our
Gallery
.
Just picked up our gorgeous Schnoodle pup Rocky after his first pampering session, 2 Left Paws have done a fantastic job and he smells beautiful is so soft and fluffy and can see again now too so thanku so much!
Kirsty Hill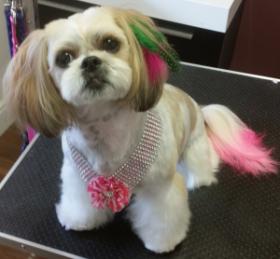 The Great Dame
Teeth clean, facial and mud bath massage with a hot towel wrap.
Doggy Dentures
We offer a regular teeth clean and a deep teeth clean but this is dog-dependant as some dogs won't let us do this.
Pawdicure
Nails cut, pads cleared, wild wash 100% natural paw balm (a sweet almond frankincense and Kanuka balm which works in harmony to heal, reduce inflammation, moisturise and ease discomfort of sore and cracked pads).
Luxury Pawdicure
Everything included in the Pawdicure above, plus nail polish in the colour of your choice.
Creative Grooming
Fancy something to get your dog noticed on their walk? How about some Creative Grooming! From hair dye, to Mohawks, to bunchies, to feather extensions, we can do it. Please ask a member of staff and we will try our best to accommodate your wishes. Colour and style of owners choice however this must be pre-booked.
Pick and Mix
Choose from the treatments below or a package of 4 or 6 treatments.
Paws in Puddles - a mud bath massage with a hot towel wrap.
Hydrating butter treatment.
Pad and nose hydrating balm treatment.
Sani foot scrub.
Exfoliating bath scrub.
Regular teeth clean.
Facial.
Luxury cologne.
Relaxation ear balm.